VirtueRF® Collagen Induction Therapy at Silver Solutions MedSpa
VirtueRF is the world's first ever Radio Frequency microneedling platform that delivers exceptional treatment results with minimal to no pain or downtime.  VirtueRF treatments alleviate wrinkles and fine lines, tightens and tones the face, neck, decolletage, hands and body, while stimulating collagen growth and restoring sparkle and radiance to your skin.
At Silver Solutions MedSpa, we pride ourselves in offering the most advanced technologies in minimally- invasive, non-surgical facial rejuvenation. We are the only MedSpa in Western Massachusetts to offer this technology. VirtueRF is manufactured by the global leader in RF microneedling and Collagen Induction therapy technology, ShenB.
Beautiful Skin Is Your Virtue
If you are looking for expanded skin rejuvenation, VirtueRF is the best choice.
Our Registered Nurses and Master Aesthetician's will guide you to a treatment plan that best meets your specific goals. For optimal results, we recommend three treatments spaced one month apart.
Alleviate Wrinkles & Fine Lines
Tighten Skin
Minimize Pore Size
Improve Skin Tone & Texture
Immediate Results
No Downtime
Virtually Pain-Free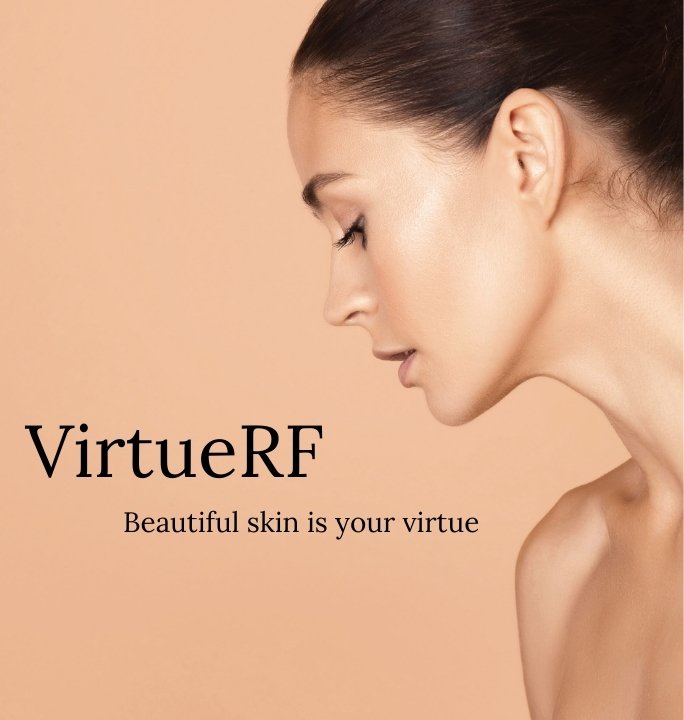 How Does VirtueRF Work?
All VirtueRF skin tightening Collagen Induction treatments are performed by our registered nurses.
Step one:
Micro-channels to stimulate collagen and tighten skin are painlessly applied to the face, neck, décolletage and other areas of the body, with VirtueRF's robotic, 36 gold-coated pins. (Collagen Induction Therapy)
When inserted, these gold-coated pins release Radio Frequency heat into the subdermal layer of your skin. This heat acts like "shrink wrap", to tighten areas treated.
Step two:
Dr. Franz Microcurrent Dual Facemask. As its name suggests, the product comprises two sheet masks: a hydrating and revitalizing Enriching and Empowering Mask that triggers microcurrents to further tighten the skin post treatment.
First, we place the Enriching Mask – soaked in hyaluronic acid and naturally derived conditioning ingredients, such as chamomile, rooibos, and sage – on to the skin.
Next, we apply a Boosting Essence Elixir on either side of the Empowering Mask to generate ion energy flow and activate microcurrents. We then add the activated Empowering Mask over the Enriching Mask. You will relax bathed in the glow of Himalayan Salt lamps for 20 minutes, listening to the meditative sounds of gentle music.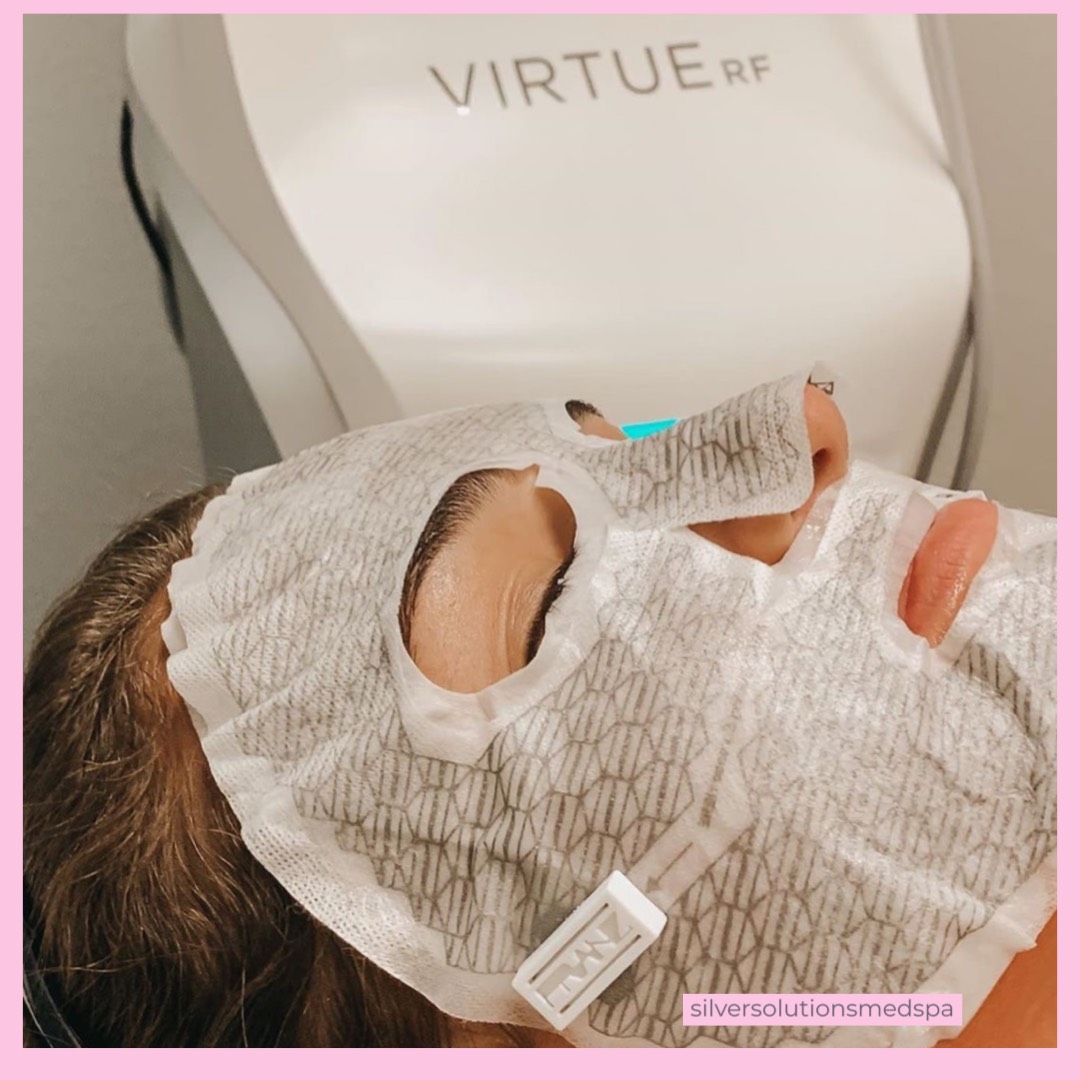 Cost Considerations:
Your cost not only includes the price of the product, but more importantly, the training, skill and expertise of the health care professional who is administering your treatment. (See Our Team)
Try The VirtueRF today. Beautiful skin is your virtue.
Call us today 413-441-8453 or book an appointment online today
Frequently Asked Questions:
What is VirtueRF?
VirtueRF is an FDA-cleared treatment that combines the latest generation of collagen induction therapy technology with radio-frequency (RF), generated heat to stimulates collagen production. This leads to tighter, younger-looking skin.
What does it feel like and does it hurt?
To ensure a comfortable patient experience, we use a personalized compounded numbing cream, which is applied 30 to 45 minutes prior to the treatment. Many testimonials from patients say they found the treatment to be in a range of comfortable to virtually pain-free. Patients report that the treatment feels like light pressure to the face, with an occasional, light sparking feeling.
How do I determine the right treatment for me?
Our Registered Nurse consultations provide treatment advice as to if this technology is right for you. Keep in mind that the treatment device used is only part of the process; the right serums and recovery system will enhance your results.
How many treatments do I need?
Most providers will recommend a series of three to four treatments, spaced 4 to 6 weeks apart. To maintain results, a treatment every six months is recommended.
How long does it take?
We will supply you with numbing cream which you will apply in a thick coat 30 minutes before arriving at the office. The actual treatment takes about 30-45  minutes, (dependent on areas treated) with an additional 20 minutes of mask relaxation time.
When can I wear makeup?
We recommend at least six hours before you apply makeup, and you may even wait until the next morning. To maximize the VirtueRF treatment during the first few days, we advise ZO Skin Health Hydrating Creme, by Dr. Obagi.
How do I get the maximum result from my treatment?
Start with the right device, with the right treatment serums with the right recovery system. Follow the recommended recovery protocols once you get home, Abstain from sun exposure and from your fitness workout for 24 hours, and you are well on your way to maximizing your VirtueRF treatment.
Adding the Platelet Rich Plasma option to your treatment helps to produce additional collagen.
What kind of skin does it work on?
Most skin colors can be treated, including tanned skin and dark skin.
How long does the result last?
Everyone is different, but the collagen and elastin you make is your own and continues accelerated production over the next six months as results improve over time.
What is my recovery time?
You will leave the office looking like you have a mild, red sunburn which will turn to pink by evening. The next day, your skin will look slightly flushed and healthy. Practitioners may choose to supplement the treatment with serums and recovery protocols that create optimal results and faster recovery. Our clients are ready for a night out, with very little to no evidence of treatment that day.