2023 is the year of the "Bare Skin" trend! Trending TikTok and YouTube make-up tutorials are all about the application of nude eyeliner, light foundation, and natural lipstick colors. Blogs by InStyle, Vogue, Elle and Glam are all about the "Bare Skin" trend! According to Maybelline New York, you want to keep your skin "simple and bare". With skin health in focus, full-coverage foundations and concealers are taking a back seat to healthy and natural skin.
Here at Silver Solutions, "Bare Skin" is definitely trending! Our focus for 2023 is skin health! That means treatments and products that help reverse sun damage, reduce pigmentation and redness, improve the texture and tone of the skin, as well as reduce the appearance of fine lines and wrinkles, keeping your skin clean, healthy, protected and beautiful.
Here is OUR favorite recipe for the "Bare Skin" trend. If you want visible, meaningful changes in skin tone and texture, we recommend combination laser treatments with Sciton BroadBand Light (Photofacial) and MOXI laser (fractionated, non-ablative skin resurfacing) with a customized ZO Skincare Program to protect and nourish your new "Bare Skin".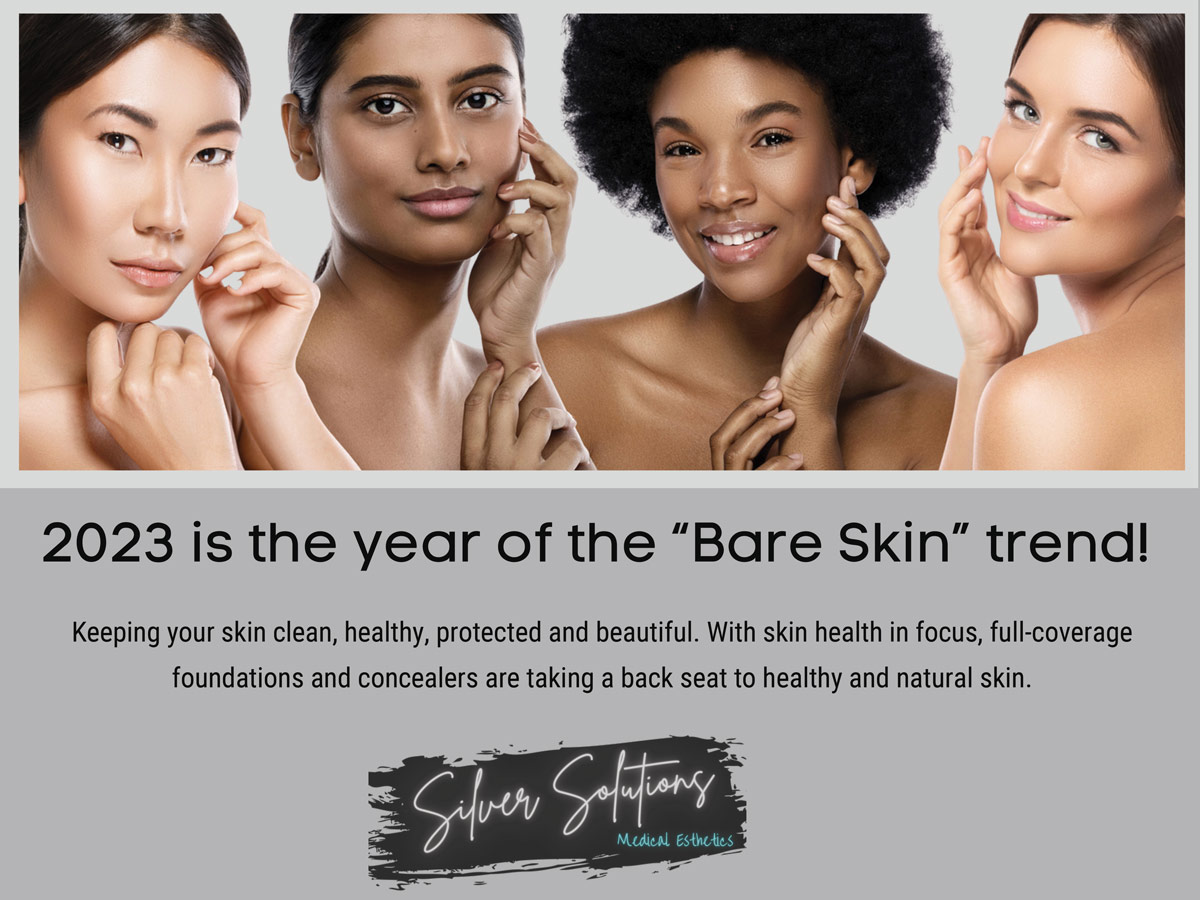 Benefits of Sciton BroadBand Light (BBL)
Repairs sun damaged skin
Stimulates skin cell turnover
Boosts collagen and elasticity
Smooths skin texture
Balances skin tone
Strengthens skin
Reduces the appearance of freckles, age spots, sunspots and other forms of pigmentation
Reduces the appearance of fine lines and wrinkles
Reduces the appearance of rosacea and diffused redness
Reduces the appearance of broken capillaries and cherry angiomas
What is MOXI?
MOXI is the latest way for individuals looking to correct the initial signs of sun damage and aging by fixing uneven pigmentation and improving the general tone and texture of skin on all skin types and ages with minimal downtime.
MOXI is the fractionated, non-ablative laser for everyone!
Designed to treat ALL skin types, anytime of the year!
Improves skin texture
Promotes new skin cell growth
Polishes skin with gentle resurfacing
Ideal for those wanting to lightly revitalize and refresh the skins appearance
Treats melasma
We can perform both BBL and Moxi treatments the same day.
We ask you to come with a clean face, bare of all make up and moisturizer.
We will perform a quick 10-minute VISIA scan, which will give you base line information on surface and subsurface skin conditions such as:

Brown and red spots
Depth and degree of sun damage
Wrinkle depth
Pore size and degree of congestion.
Skin Texture
Inflammatory and bacterial conditions
Lash health

Then, we will massage in prescription numbing cream, and bring you to a comfy leather recliner in our Himalayan Salt Stone Sanctuary where you will relax and listen to the sounds of the ocean. (Fluffy blankets optional!) Numb time is 45 minutes, we want you to be super comfortable during your treatments.
Treatment time! We will place laser goggles over your eyes and get down to business! Total treatment time is 1 hour.
After the treatment we will give you cooling spray and apply a Cooling mask, then off you go with aftercare instructions and your very own aftercare product kit containing ZO Gentle Cleanser, ZO Hydrating Crème, and ZO Smart Tone SPF 50 Sunscreen.
Your anticipated recovery time. What to expect:
Immediately after your treatment you will be very red and feel hot (think sunburn) for 2ish hours. Use the cooling spray we give you!
Day 2- Tiny micro-dots called MENDS (microscopic epidermal necrotic debris) will start to form in areas treated. It's possible to experience slight inflammation.
As the micro-dots heal, they will darken, like a sun tan and feel like fine sandpaper. Your skin may feel dry and tight, use the ZO aftercare products to help soothe the skin as it heals. The sunscreen has a light tint that can help cover the MENDS, you can also use make-up to cover if needed.
Between 3 and 7 days the MENDS will slough off and any swelling will resolve, revealing the new, glowing skin beneath!
We do offer BBL and MOXI as single, stand alone treatments, but for best results, we recommend the combo treatment. There is always special pricing for laser Combination Treatments.
***Contraindications to laser: If you have the following, you are not a candidate for the treatments above. We will recommend options such as Hydrafacials, Peels, Microneedling and Skin Care.
Intolerance to topical anesthetics
History of light sensitivity
History of seizures
Patients taking photosensitizing medication
Patients who have taken Accutane in the past 12 months
Patients taking long-term systemic steroids
Pregnancy
History of connective tissue disease
Medical conditions that affect wound healing.
Patients taking anticoagulant medication.
Active infection or compromised immune system
History of skin cancer, especially malignant melanoma
History of keloid scar formation.
Patients with tanned skin
Patients with self-tanner or spray tan.
Special Considerations
History of cold sores
History of migraine headaches
History of post-inflammatory hyperpigmentation (PIH)
Recent cosmetic procedures (filler/botox, etc)
To schedule your appointment, call 4134418453
All laser appointments require a Laser Skin Consultation ($175) to ensure you are receiving the right laser treatment to address your concerns. Laser consultation includes diagnostic VISIA scan. The full cost of that evaluation goes towards your laser appointment.