What is VISIA Skin Analysis?
VISIA skin analysis is a cutting-edge technology that allows for a comprehensive evaluation of the skin. The system uses a specialized camera to capture high-quality images of the face, which are then analyzed to provide a detailed assessment of various skin characteristics, including texture, pigmentation, wrinkles, and pores.
You'll receive a personal skin care and rejuvenation recommendation. And, as your treatments progress, the VISIA is used to track the changes in your skin and the effectiveness of your skin care program. Your VISIA analysis takes just a few minutes. We'll review your results and recommendations, focusing on your specific problem areas in our consultation.
Call us today 413-441-8453 to request an appointment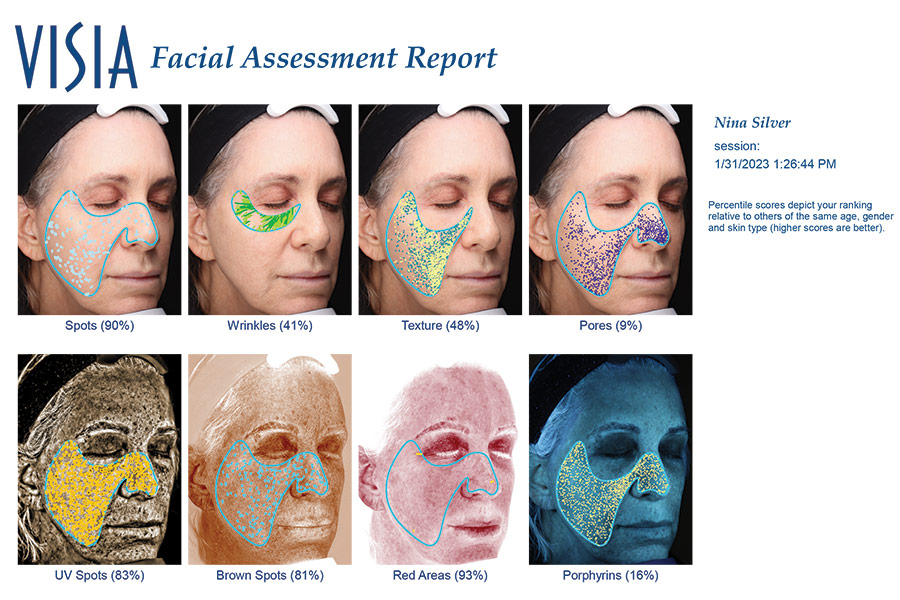 Benefits of VISIA:
Using an advanced software to analyze the images, VISIA generates comprehensive report on the skin's condition which helps us providing a more accurate assessment of your skin's needs and progress over time. The report includes detailed information such as
Photo Damage
Brown Spots
Fine Lines and Wrinkles
Skin Texture
Pore size
Bacterial Growth
Skin Age
Lash Length and Volume
Redness
UVA damage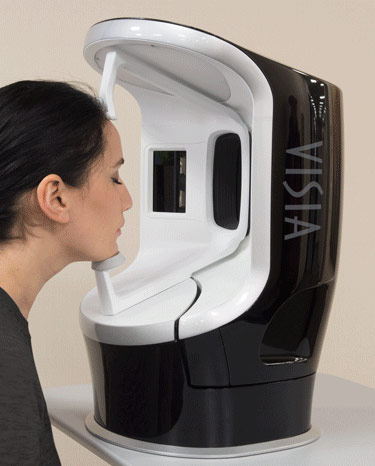 Frequently Asked Questions:
1) How does VISIA skin analysis work?
The system uses specialized lighting and cross-polarized filters to capture multiple images of the face, which are then analyzed using advanced software to provide a detailed report on the skin's condition. Schedule a skin consultation today
2) How can VISIA skin analysis help me improve my skin health?
By providing a comprehensive evaluation of your skin's health, along with treatment recommendations, VISIA skin analysis can help you make more informed decisions about your skincare routine and achieve your best skin yet.
3) Is VISIA skin analysis safe and non-invasive?
Yes, VISIA skin analysis is safe and non-invasive. It does not involve any needles or incisions, and there is no downtime required after the procedure.
4) Who can benefit from VISIA skin analysis?
Anyone who is interested in improving their skin health can benefit from VISIA skin analysis. It can be especially helpful for those with specific skin concerns, such as acne, rosacea, or hyperpigmentation.
5) How long does a VISIA skin analysis take?
A typical VISIA skin analysis takes approximately 30 minutes to complete. This may vary depending on the specific needs of the patient and the number of images that need to be captured.
Cost Considerations:
Your cost not only includes the price of the product, but more importantly, the training, skill and expertise of the health care professional who is administering your treatment. (See Our Team)
Book Skin Consultation Today!
to discover if VISIA is right for your and how it can benefit your skin health.