PRP for the Scalp for Hair Thickening and Hair Loss
PRP is a process by which your own blood platelets are injected back into the scalp to thicken hair which is thinning or help regrow hair for hair loss.
After drawing your blood,  We will concentrate your own bioactive platelets, using an FDA-approved process, then inject them back into your scalp in the areas where you are experiencing hair thinning and/or hair loss.
How is Silver Solutions MedSpa different?
Using an "inside-outside" approach, we help you investigate the underlying causes of hair loss and optimize your body's ability to thicken and regrow hair using non-surgical treatments.
The system that is used at Silver Solutions Med Spa has been proven to concentrate the platelets to 9x what is available by the body itself and has been approved by the FDA for this purpose.
Here's why PRP helps!
Numerous growth factors are present within platelet granules. The growth factors after being injected into the scalp at the level of the hair follicle, stimulate cell proliferation and differentiation leading ultimately to "waking up" dormant hair follicles and enlarging ones that have shrunk – this increases hair thickness and growth.
PRP therapy works better if your hair loss is somewhat recent. It is more challenging to "wake up" hair follicles that have been dormant for a long time, and impossible in the areas of hair loss with a lot of "shine".
It is also important to know that in cases of severe systemic illness such as lupus, scarring alopecia, and other autoimmune illnesses, PRP is not recommended as a treatment.
Is there science behind PRP?
The effects of PRP are well established in complicated wound healing, surgical wound healing, and sports medicine. Although there is less specific data available for skin rejuvenation and alopecia specifically, the same science is being leveraged from these other areas and trials are underway.
Many of the top hospitals and clinics offer PRP for hair loss treatment including The Cleveland Clinic.
This 2014 study showed a significant reduction in hair loss between the 1st and 4th PRP treatment.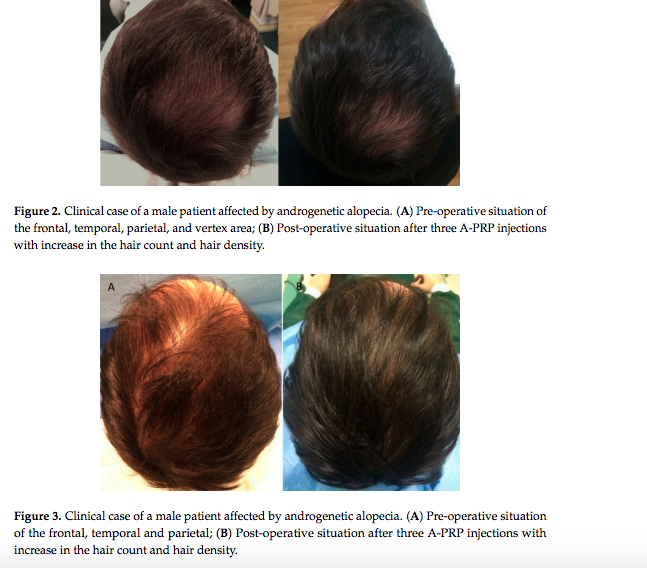 How Many Treatments Will I Need for the Scalp for Hair Thickening and Hair Loss?
PRP treatments are recommended once per month for 3 months and then approximately once every 6-12 months for optimal results.
If you are being currently treated for hair loss elsewhere, it is also recommended to continue current treatments such as low dose light therapy, finasteride and/or topical minoxidil.
Is it safe?
The FDA has not imposed regulations on the use of PRP because it comes from the patient's own body and is not a drug.
PRP has an excellent safety profile as your own blood product is being injected back into various levels of your own skin. There is an extremely low likelihood of complications unlike other treatments.
Most common are bleeding, bruising and swelling at the site of injection.