Vampire Facial ® - Treats skin conditions naturally.
A Vampire Facial ® is a combination of microneedling and platelet-rich plasma (PRP). Microneedling uses short, fine needles to puncture the skin. With Vampire Facial ®, PRP can be injected under the eyes, forehead, and smile lines as well as into deep wrinkles to stimulate collagen regrowth allowing the area to tighten and regain the youthful glow that you once had.
By encouraging the natural collagen production, this innovative facial rejuvenation treatment can help to provide numerous anti-aging benefits, helping your skin to look smoother and more plumped.
Benefits of Vampire Facial ®
There are many benefits to the Vampire Facial ®, including boosting the turnover of skin cells, improving skin tone and texture. Below are some of the major benefits:
Fine lines and wrinkles
Grey, rough or dull skin texture and tone
Acne scars
Hyperpigmentation
Enlarged pores
Dark circles under the eyes
Skin damaged by the sun
Fine but noticeable lines around the lips
Crow's feet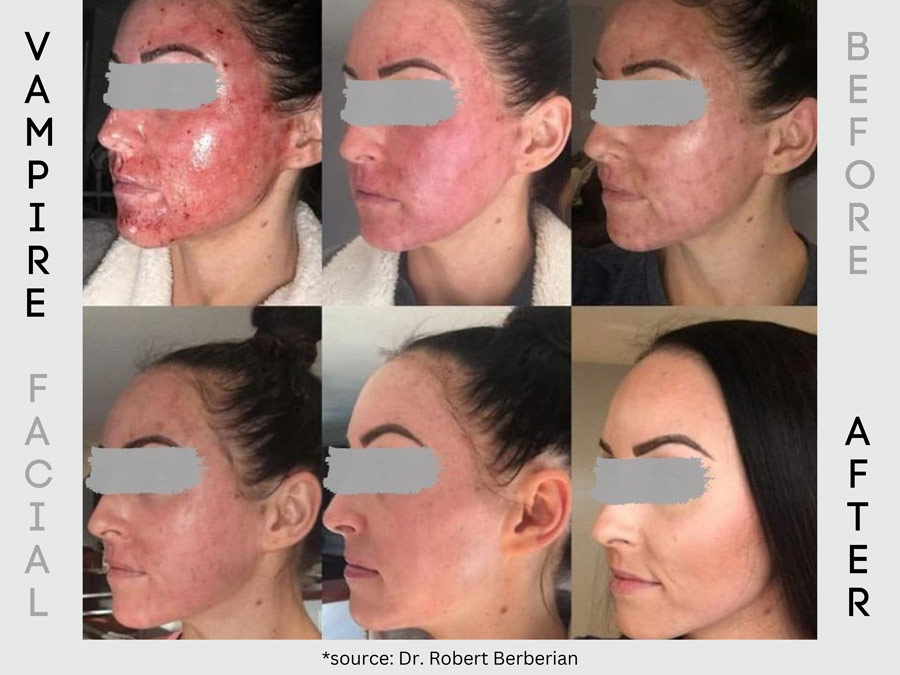 Frequently Asked Questions:
1) Is Vampire Facial ® safe?
Used on thousands of patients worldwide, Vampire Facial ® has been shown to be both safe and effective. Vampire Facial contains only autologous components and no severe adverse reactions have been reported (nodules, bumps or granulomas).
2) How does Vampire Facial ® performed?
Vampire Facial ® yields a natural biologically-active PRP, loaded with viable platelets that can be applied in a simple, safe, quick, and minimally invasive outpatient procedure. Application typically takes place in the physicians office. Your doctor/nurse can use a variety of pain management techniques during treatment to ensure your comfort throughout the process.
3) What are the side effects?
Since Vampire Facial ® uses your own blood and does not contain any animal or synthetic components, there is virtually no risk of an allergic reaction and there have been no reported allergic reactions to date. Consequently, skin allergy testing is unnecessary prior to treatment. However, if you have a history of allergies please inform your physician. You may experience some common reactions, such as mild irritation, edema, bruising, swelling, itching, discoloration or tenderness at the injection site. These temporary conditions typically resolve themselves within one to two days.
4) What should I except from results of Vampire Facial ®?
The treatment will provide a gradual increase in volume by helping to stimulate your body's own collagen production. Following your treatment, you will see immediate results. Once the initial swelling goes down, it may take up to 3 weeks to see sustained volume gain.
5) Does Vampire Facial ® produce permanent results?
Although not permanent, Vampire Facial ® PRP offers natural and lasting effects.
6) Can you wear makeup after a Vampire Facial ® treatment?
It's best to avoid wearing makeup for at least 24 hours after your Vampire Facial ®. Keeping your skin clean and clear will give it the best chance of healing naturally and quickly
Cost Considerations:
Your cost not only includes the price of the product, but more importantly, the training, skill and expertise of the health care professional who is administering your treatment. (See Our Team)
Book Vampire Facial® Treatment Today!
Talk to us about available options for you