Hydrafacial, your solution To Glowing Skin
The best skin of your life: The Hydrafacial® treatment rejuvenates and protects the health of your skin, providing immediate results and long-term benefits without downtime or irritation. Only Hydrafacial uses patented technology to power wash your skin, leaving you exfoliated, hydrated, and nourished. Everyone will be asking you where you got that Hydrafacial GLOW!
*Hydrafacial is vegan friendly and cruelty free.
Hydrafacial Before & After
Each picture below represents real results from real patients.
Brand New Hydrafacial Machine
We are excited to bring you new features including the fabulous LightStim Elipsa LED treatment. Enclosing the entire face allows us to deliver the most effective LED light therapy! Offering an Anti-Aging mode & an Acne mode!
We have a variety of different ways you can customize your treatment !!
Dermaplaning
Booster Serums
Higher Concentration Peels HydraJelly Masks
Neck & Décolleté add-on
Lymphatic Drainage
Classic Hydrafacial - Face or Back
1 treatment – $209
3 treatments – $567
Deeply cleanse, extract, and hydrate the skin through our super serum filled with antioxidants, peptides, and hyaluronic acid.
CLEANSE: Uncover a new layer of skin with gentle exfoliation and relaxing resurfacing.
EXTRACT: Removes dirt and debris from pores with painless suction.
HYDRATE: Fuse the skin with antioxidants to leave you with the ultimate hydration and glow. Finished with Red or Blue LED Light Therapy.
DOWNTIME:
None. Might be pink for the rest of the day.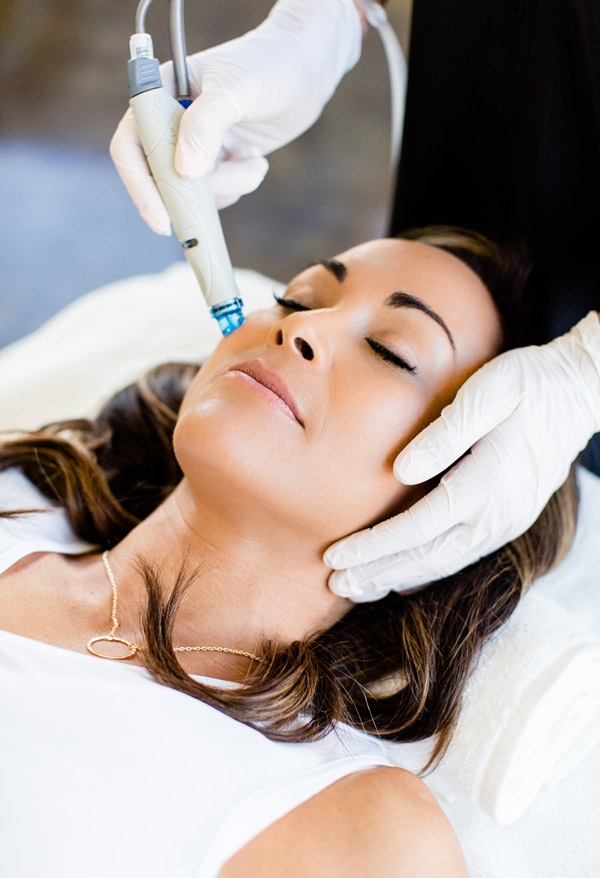 1 Treatment – $270
3 Treatments – $732
Everything included in the signature Hydrafacial with an added Booster Serum of your choice to target more specific concerns.
1 Treatment – $320
3 Treatments – $867
Everything included in the Gold Hydrafacial with added exfoliation by using a higher percentage of glycolic acid and a more exfoliating tip to work through more texture, pigmentation, and signs of aging.
1 Treatment – $360
3 Treatments – $975
Everything included in the GOLD Hydrafacial but including:
A relaxing HydroJelly mask for specific concerns
Extra LED light therapy – both BLUE and RED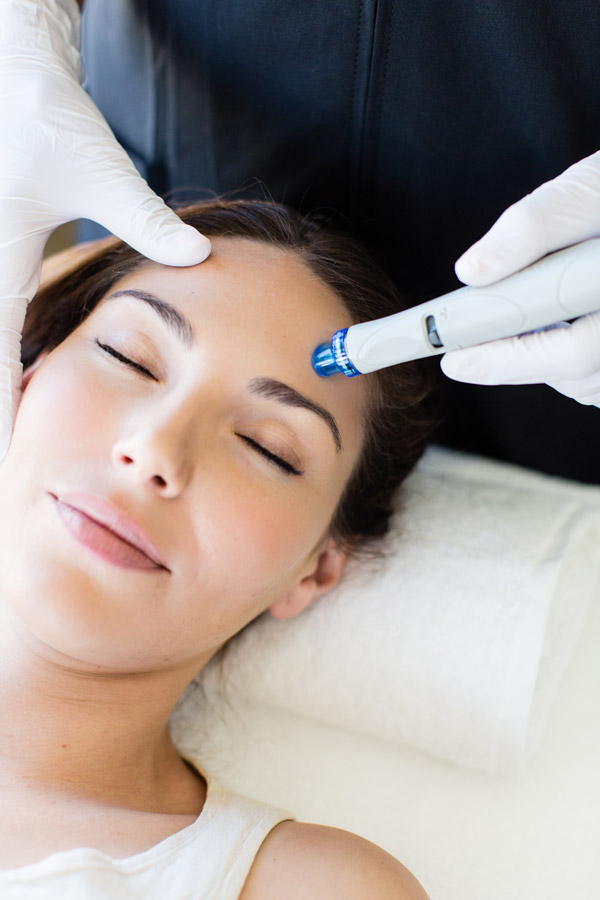 Dermal Repair: tightens the skin while providing extra hydration and relieving redness.
Trihex: Thickens the skin while removing damage and plumping up fine lines.
Chrono-Peptide: energizes the skin to add radiance and encourage elastin and collagen production.
Protec Plus: Combats Free Radical Damage to soothe ultra dry skin and reduce redness.
Power Serum: Reduces deeper signs of aging like loss of volume and deep lines.
Rozatrol: Delivers nutrients that help keep rosacea under control.
Bright Alive: Evens skin tone and lightens brown spots and hyperpigmentation.
HydraGlucan: Extra hydration for those with compromised skin and broken skin barriers.
Signature Hydrafacial Body Treatments:
Extend the benefits of the Hydrafacial treatment other parts of the body to deeply cleanse, exfoliate, extract and hydrate the skin. Additional savings are available when adding onto a signature Hydrafacial treatment. Neck and décolletage, hands, arms, legs and back.
Derma-plane – $50
Hydrojelly mask – $35
15% or 30% Glycolic Acid Peel – Free
Lymphatic Drainage – $75
Add on Neck and Chest – $108
Boost:
Hydrafacial boosts are included in the platinum Hydrafacial but can be added to any Hydrafacial treatment. Boosts include ZO Skin Health-Bright Alive and ZO Skin Health-Rozatrol for sensitive skin and Rosacea
Cost Considerations:
Your cost not only includes the price of the product, but more importantly, the training, skill and expertise of the health care professional who is administering your treatment. (See Our Team)