Want ultra-fast permanent hair removal treatments? Sciton BareHR offers a long-term solution for hair removal!  When we say ultra-fast, we mean it! Our laser has "cruise control" that allows us to sweep over the skin quickly and effectively. Here are some examples of the type of speed our laser can "cruise" at:  legs, three minutes/leg, under arm-under one minute per side, full back ten-fifteen minutes!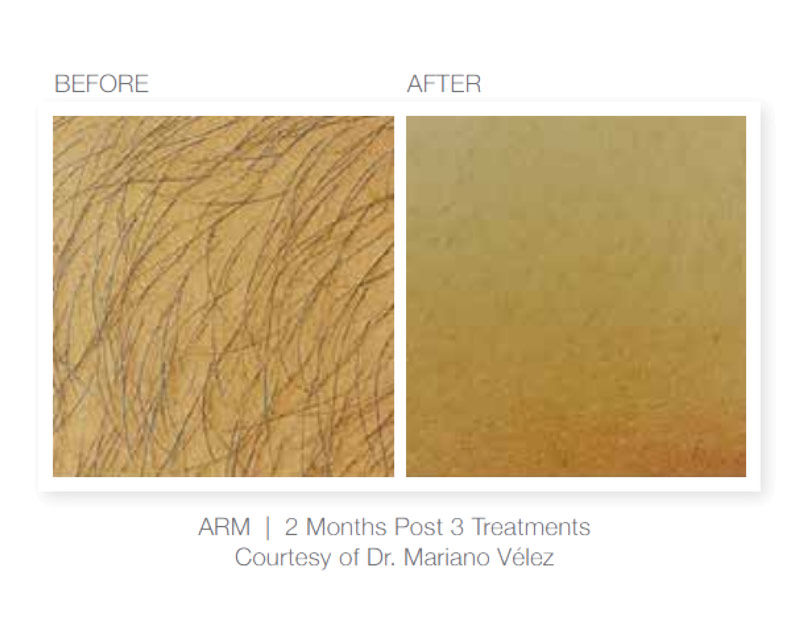 This is NEW technology that not only is super-fast but also super comfortable! We apply a gel to the treatment area during the procedure to protect your skin and reduce discomfort. The cooling crystal on our device allows for extremely comfortable treatments.  We also have the ability to treat at multiple wavelengths allowing us to treat a wide range of hair types and skin tones.
Laser hair removal can be performed on various parts of the body, face, legs, under arms, bikini lines, back and chest and offers several advantages over waxing, plucking and shaving.  No more stubble or rough skin texture! No more ingrown hairs and bumps!
And did you know that the light energy from our laser can also provide an exfoliating effect, helping to remove the layer of dead skin cells that can make your skin appear dull and rough?  By eliminating these dead cells, laser hair removal can reveal a fresh and rejuvenated skin surface.
How it works?
During the procedure, the laser emits a concentrated beam of light that heats the hair shaft. The heat generated from the laser damages the hair follicles, inhibiting future hair growth. Our laser is precise and the beam of light targets hair follicles only while leaving the surrounding skin undamaged.
Six sessions are scheduled for 6-8 weeks apart.
Multiple sessions are required for optimal results. Sessions are spaced weeks apart to allow for hair regrowth and to target actively growing hair follicles. Hair follicles do not mature at the same time!  The hair growth cycle consists of three main phases: growth phase, transition phase and resting phase. These phases differ from person to person and depend on genetics, body location, age, and hormonal influences.
Side effects of treatments are minimal, some redness or irritation. We will apply aloe lotion after your appointment.
Some helpful hints to avoid irritation are:
Wear loose clothing. Tight clothing will rub and irritate treated areas.
Avoid heat such as hot showers, baths, hot tubs, and saunas.
Cool towels can be used if you have tingling or irritation from your treatment.
When you call to ask about laser hair removal, we will discuss pricing and also send you a link to our website. The Laser Hair Removal Contraindications form must be filled out before we can schedule your appointments. It is a quick, yes or no form that can be completed in under five minutes. Administering safe and effective procedures is our top priority. Once you complete the Contraindication form, and we determine that you are a good candidate for laser hair removal we will call to schedule your appointments.
At Silver Solutions, all laser hair removal appointments are performed by a Certified Laser Technician, specializing in Laser Hair Removal.
If you're looking for a hair removal method that not only reduces unwanted hair but also enhances the overall quality of your skin give us a call 413.441.8453 or click on request an appointment button.