Medical Microneedling: SkinPen
Pittsfield, MA – Call us today 413-441-8453
What is Medical Microneedling?
It causes controlled micro-injuries that stimulate your body's natural wound healing process, while minimizing cellular damage. The result is effective remodeling of scar tissue, while keeping the overall structure of the skin intact.1
At Silver Solutions Medspa we use the SkinPen, the first  FDA-cleared medical microneedling device.
There are 3 phases to the wound-repair process:
Phase I: Inflammation. Piercing the skin triggers your immune system to disinfect the wounds, remove debris, increase blood flow and begin to create new tissue.
Phase II: Proliferation. The wound is rebuilt with new granulation cells, which are part of the extracellular matrix. Additionally, a new network of blood vessels develops.
Phase III: Remodeling. The wound is replaced with new dermal tissues and blood vessels.
Best of all, SkinPen works! Ninety percent of subjects in the clinical trial would recommend the procedure to family and friends.1
References [1] Data on file. Bellus Medical. 2017.
Five reasons medical microneedling with SkinPen may be right for you!
Medical Microneedling is a skin rejuvenation procedure that helps to improve your skin's appearance by stimulating its natural ability to produce collagen and repair itself. The SkinPen, the only FDA approved micro-needling device, offers five features that make this non-invasive but effective procedure the right choice for problem skin.
SkinPen Medical Microneedling is:
1. Natural. SkinPen is a medical microneedling tool that uses sharp needles to create tiny holes in your skin. In response to these micro-injuries, your body produces collagen and elastin to heal the wound naturally. SkinPen doesn't use chemicals, heat or toxins to burn or remove layers of your skin.
2. Safe and relatively comfortable. There are minimal side effects and downtime following a SkinPen procedure. Slight swelling and redness/pinkness in the area (like that from a mild sunburn) usually last only two to four days, so you can return to work or social activities quickly. SkinPen has minimal risk of scarring or infections. At Silver Solutions Medspa we apply a topical anesthetic before the procedure, making you comfortable. We also have Pronox, a self administered nitrous gas for complete pain and anxiety free treatments!
3. Versatile. SkinPen can be used to improve the appearance of fine lines and wrinkles, stretch marks and acne scars. SkinPen can be used on many different body parts, including face, neck, décolletage, arms, hands, legs, abdomen and back. SkinPen needles adjust to different lengths, allowing your SkinPen provider to customize your procedure based on skin's thickness and your specific needs.
** At Silver Solutions Medspa we can add the benefits of Platelet Rich Plasma, Hyularonic acid, a sprinkle of Botox and B vitamins to your treatment creating a custom, individualized treatment based on trouble areas.
4. Effective for all skin types. Because SkinPen doesn't affect the epidermis (where the skin pigment resides), it can be used on all skin types. Using Skinfuse skincare products in the Post Procedure Kit can further optimize the results from your procedure. Skinfuse products are specifically designed to give your skin the nutrients it needs at the right time.
5. Cost-effective. The features listed above make SkinPen a cost-effective choice to other skin procedures such as chemical peels, or laser resurfacing.
Ask us about medical microneedling with SkinPen at your appointment or consultation.
How is collagen induction therapy different than other skin rejuvenation treatments?
Collagen Induction Therapy (CIT), also known as micro-needling, is a skin treatment that stimulates your skin's natural ability to heal itself. CIT uses tiny sharp needles to create hundreds of micro-channels in your skin. In response to these micro injuries, your body produces collagen to repair itself.
Medical Microneedling with SkinPen is superior to other skin rejuvenation treatments because SkinPen is:
Natural—it doesn't use chemicals, toxins or heat
Can be used safely on many parts of your body, including your chest and abdomen
Can repair stretch marks
Works on all skin types and skin colors
Has minimal side effects and recovery time
Cost-effective
Here's how SkinPen surpasses other skin treatments:
 How does it work?
SkinPen (CIT):  Naturally—SkinPen triggers your body to produce collagen.
Deep Chemical Peels (Phenol): A chemical solution (phenol) burns your skin, removing several layers.
Laser Resurfacing: A laser removes dead skin and scar tissue.
What conditions does it treat?
SkinPen (CIT): Wrinkles, Fine lines, Stretch marks, Acne scars, Hyperpigmentation
Deep Chemical Peels (Phenol): Facial blemishes, Wrinkles
Laser Resurfacing: Facial wrinkles, Blemishes, Shallow acne scars
Where can it be used?
SkinPen (CIT): Face, Neck, Décolletage, Arms, Hands, Legs, Back, Abdomen
Deep Chemical Peels (Phenol): Face only
Laser Resurfacing: Face (most common), Neck, Chest, Hands
Can it be used on dark skin?
 SkinPen (CIT): Yes, can be used on all skin colors.
 Deep Chemical Peels (Phenol): No, it bleaches the treated skin.
 Laser Resurfacing: No, it can cause darker pigmentation.
What are the side effects?
SkinPen (CIT):  Slight swelling, Redness/pinkness
Deep Chemical Peels (Phenol): Extreme redness, Swelling around the eyes, Color changes in the skin, Increased sensitivity to sunlight, Scarring
Laser Resurfacing: Swelling, Itching or stinging, Redness, Changes in skin pigmentation (lighter or darker), Photo-sensitivity, Risk of burns, scarring or infections
How long is the recovery time?
SkinPen (CIT):  2 to 4 days
Deep Chemical Peels (Phenol): Up to 4 months
Laser Resurfacing: 10 to 21 days for the wound to heal, 2 to 6 months for redness to disappear
How long do the results last?
SkinPen (CIT):  Varies by results desired
Deep Chemical Peels (Phenol): Permanent—can't be repeated
Laser Resurfacing: Up to 3 years
What's the cost?
SkinPen (CIT):  Varies by provider but designed to be a cost-effective option
Deep Chemical Peels (Phenol): Very Expensive
Laser Resurfacing: Very Expensive
Ask us about medical microneedling with SkinPen at your appointment or consultation.
Treatment Cost:
SkinPen Medical Microneedling Pricing for 1 area (face, neck, chest/décolletage, hands):
Consultation and Health Evaluation for treatment: Approximately 30 minutes – Complimentary.
Skin Rejuvenation/Acne scarring with 90 day supply of Surge (for additional collagen production and SkinFuse post procedure treatment kit.): Package of 3 –  $990.00
Skin Rejuvenation with Platelet Rich Plasma: Package of 3 $1080
Skin Rejuvenation with "The Whole Shebang"! Includes "Medical Microneedling-In" Platelet Rich Plasma,  as well as the following extras: Hyularonic Acid filler, Botox, and B-complex vitamins. Package of 3 – $1625
Add on area (requires more time for appointment and additional product) is additional $350 (save $100-250 as compared to separate treatment)
We can arrange to add Hyularonic Acid filler, Botox, and B-complex vitamins to an already purchased package for an additional fee. Please inquire about this if desired.
The use of topical numbing cream and self-administered Nitrous (laughing gas) are available and included for optimal comfort during treatment.
One treatment can be purchased with prices ranging from $450 – $680 per treatment – please ask for details.
How often do I need to do this treatment?
Skin Rejuvenation with Platelet Rich Plasma or "The Whole Shebang".
1 per month for 3 months- then yearly.
Skin Rejuvenation/Acne scarring.
1 per month for 3-6 months depending on goals and/or depth of acne scarring.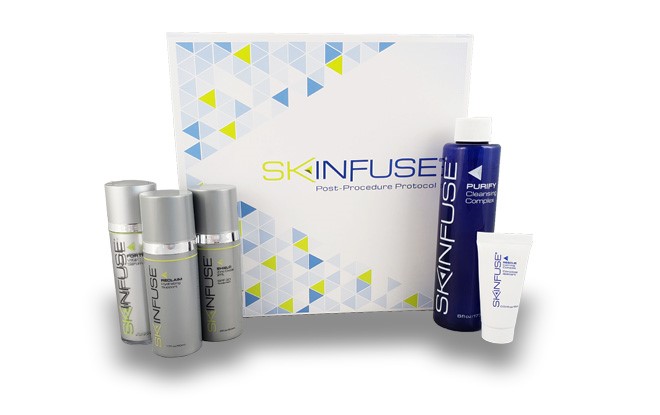 What products do I use to enhance my Medical Microneedling treatments?
Following a medical microneedling procedure, it's important to provide the right ingredients to create the optimal environment for skin remodeling.
Very clean products are required right after a medical microneedling procedure to avoid chemical inflammatory issues.
At Silver Solutions Medspa we recommend using the 90-day SkinFuse system. Unlike everyday skincare products, Skinfuse® Post-Procedure Protocol is exclusively designed to optimize the skin's environment following a medical microneedling treatment for up to 90 days.   
More specifically, our Post-Procedure Protocol:
Provides skin with the ideal ingredients at the ideal time
Calms and protects skin after medical microneedling treatments
Contains safe ingredients and removes irritants that could hinder the remodeling process
Allows you to maximize your medical microneedling results from your home
A Synergistic Approach
All five products in the Protocol play a unique part in supporting your skin after medical microneedling treatments:
PURIFY Cleansing Complex removes makeup, sunscreen, and surface oils. It uses five plant-based surfactants to gently and effectively cleanse the skin.
RESCUE Calming Complex is a soothing gel intended to be used 24 hours post-microneedling treatment.
RECLAIM Hydrating Support helps maintain the skin's natural barrier and encourages increased retention of natural moisture.
FORTIFY Vita C Serum is a non-irritating, water-soluble form of Vitamin C that helps minimize inflammation.
SHIELD Zinc Oxide 21% is a sunscreen with macroparticles designed not to enter newly created microchannels. It provides effective sun protection for your skin post-microneedling while steering clear of the inflammation sometimes associated with chemical sunscreens.
What's In, What's Out
Skinfuse products are the result of extensive research. Bellus Medical formulated these products using such ingredients as:
Vitamin A
Vitamin C
Copper peptides
Vitamin E
Magnesium
Zinc
Amino acids proline and lysine
Ceramides
Equally important, all Skinfuse products are free of ingredients that can limit the benefits of medical microneedling treatments, such as:
Silicone
Artificial color
Sodium lauryl
Chemical sunscreen
Dimethicone
Artificial fragrances
Propylene glycol
Paraben
What Does This All Mean?
Can you enhance your medical microneedling procedures? The answer is yes.
In simple terms, a medical microneedling procedure is like planting new grass. You must provide proper maintenance, water, and fertilizer to grow a beautiful lawn. This is what Skinfuse does for medical microneedling. It's an easy-to-use skin care regimen that leaves your skin feeling healthy and beautiful.
Ask us about the SkinFuse system at your appointment or consultation.
SkinPen Micro-needling Pre & Post Procedure Instructions
Pre-Procedure Instructions & Precautions
Avoid sun exposure/burns twenty-four (24) hours prior to treatment.

Discontinue use of retinoids twelve (12) hours prior to treatment.

You should not have an active breakout, active cold sores, or open lesions. If this 

occurs, your medical microneedling treatment should be rescheduled.

Allow at least (twelve) 12 hours after autoimmune therapies before having a medical

microneedling treatment.

Wait six (6) months following isotretinoin (Accutane) use.

Skin types Fitzpatrick IV-VI, pigment may darken prior to lightening.

Wait at least forty-eight (48) hours before or after Botox treatment to have medical microneedling treatment.

Wait at least one (1) week before or after any fillers such as Juvederm, Restylane, etc.

Wait at least one (1) month before or after laser treatments such as IPL, VBeam, etc. or chemical peels such as Vitalize, Rejuvenate, etc. or Microdermabrasion treatments.
Post-Procedure Instructions & Precautions for first 24 Hours
Only use the Rescue Calming Complex and the Lift HA Serum for the next twenty-four(24) hours. Do not use any other skincare products or makeup (cleansers, moisturizers, or sunblocks).

After 24 hours from procedure you can also use a gentle cleanser and a zinc oxide sunblock as well as continue using the Rescue Calming Complex and the Lift HA Serum.

Avoid exercise for three (3) days following the procedure (including procedure day). Bruising is rare however, do not plan an important event within 2 weeks of treatment.

Avoid unprotected sun exposure for 2 weeks after treatment. Use zinc oxide and hat/shade to protect treated areas.
Expect:
Day 0 (day of procedure): Moderate redness, tight, sunburned sensation. Nothing on face except Hydrogel (Lift), apply as frequently as needed.

Day 1 – Mild to moderate redness and swelling, similar to a sunburn. No sunscreen or makeup.

Day 2 – Some persistent redness and swelling may be present. May apply sunscreen and makeup.

Day 3 – Most redness, bruising, and swelling almost gone.

Day 4 – Return to normal appearance without makeup.
Call us with any non-emergency questions or concerns 413-441-8453. If you are having an emergency after hours please visit your nearest Urgent Care or Emergency Room.