Sciton MOXI + BBL = Combine, Conquer & Correct!
The Unbeatable Treatment Pairing for Total Body Skin Renewal
MOXI™ & BBL™ featuring Forever Young BBL™.  Two advanced skin treatments in one appointment that pair perfectly for dramatic results with low downtime. Call us today 413-441-8453
BroadBand Light (BBL) HERO features Forever Young+ BBL™ which packs concentrated amounts of energy into your skin quickly, providing extra skin tightening and pigment erasing power. BBL has a variety of versatile solutions to treat a broad range of conditions anywhere on the body.
MOXI™ is designed to deliver dramatic tonal and textural improvements to your face, as it features a gentle non-ablative laser that smooths out the skin leaving you with a youthful and radiant glow.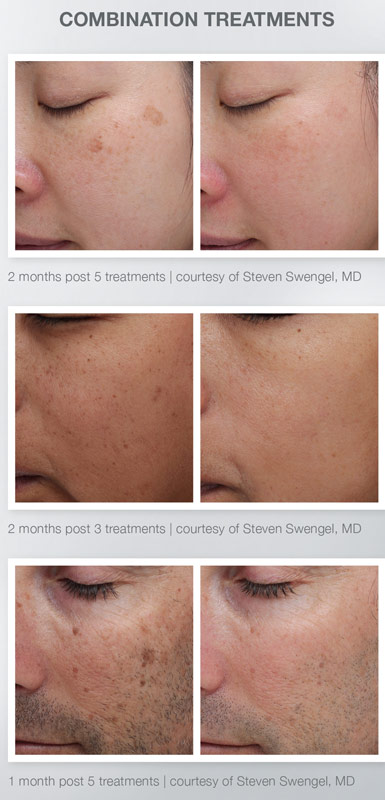 Why use Sciton MOXI BBL Combo?
Together, these two treatments pack a synergistic punch of skin renewal for skin regeneration and radiance. The ultimate treatment to tighten skin, smooth out textural issues, minimize pores, even skin tone, eliminate pigmentation issues, and give your skin that "in real life filter" look… Get your MOXI BBL Combo today!
The power of two lasers in one treatment.
Maximum results with minimal effort.
Can be tailored to most skin types and ranges of sensitivity.
For the person looking to completely transform their skin.
Makeup can be applied 24 hours post treatment
Sciton MOXI™ & BBL™ Before & After
Each picture below represents real results from real patients.
Frequently Asked Questions:
1) How does it work?
BBL uses the power of light to target the melanin (pigment) within the skin to even out skins color and tone. Broad Band Light is administered to the outer layer of skin promoting collagen production and changing the structure of the skin at a molecular level. It is the fastest way to treat pigment, sun damage and troublesome age spots anywhere on your body.
MOXI™ delivers fractionated laser energy to create micro-coagulation zones which the body then repairs. MOXI™ targets damaged tissue, bringing it to the surface to slough off and be replaced by brand new skin. MOXI™ is designed for skin renewal by providing tonal and textural improvements. Together, these two treatments provide total skin revitalization. A transformation that WILL NOT go unnoticed!
2) How comfortable is the MOXI™ and BBL combination treatment?
Depending on sensitivity this combo treatment can be described as mildly uncomfortable. You will begin with BBL in which no numbing is needed. Once the BBL portion is done you will get a prescription numbing cream to apply before you begin the MOXI portion. PRO-NOX (laughing gas) is available for both portions to put you more at ease. We recommend you take 800mg Tylenol before your treatment.
3) Is there any downtime?
You will be red and hot the day of your treatment. We recommend you book your treatment on a day where you can go home and relax afterwards. Redness and heat will generally subside in 24-48 hours. Tiny raised brown dots (MENDS) will start to surface and your skin will feel tight and rough to the touch. These dots will slough off and new skin will have emerged from beneath them. You will be glowing by day 14, but will continue to see results 4-6 weeks post treatment.
You should refrain from heavy exercise, steam rooms or saunas, and baths for 48 hours post treatment to avoid infection. You will need to stay out of the sun for at least 14 days and wear SPF everyday while you are healing. Makeup can be applied 24 hours post treatment.
4) How many treatments will I need?
This will depend on your treatment goals and the level of correction needed. Most patients receive 1-3 combo MOXI™ BBL treatments. It is important to make a consult appointment to figure out the best treatment plan for you. Schedule a skin consultation today
5) Is there any reason I should not get a combo MOXI™ BBL?
You are not a candidate for combo MOXI™ BBL if you:
Are pregnant or nursing
Have active cancerous or precancerous cells on the treatment site
Have a history of significant keloid scar formation
Have been on Accutane in the past 18 months
Have an auto-immune disease of the skin
Have broken or compromised skin, or are sunburnt or peeling.
Cannot stay out of the sun for your entire healing process
Have a compromised immune system (contingent on providers assessment)
Have current suntanned or self tanned skin
Have a history of seizures
Have light triggered migraines (ok, if taking medication)
Cost Considerations:
Your cost not only includes the price of the product, but more importantly, the training, skill and expertise of the health care professional who is administering your treatment. (See Our Team)
Book Sciton MOXI BBL Combo Treatment Today!
Win the battle against visible signs of aging and enjoy more EVENLY TONED, RADIANT SKIN from head to toe.