Come visit Silver Solutions MedSpa and experience a truly unique skin consultation with VISIA!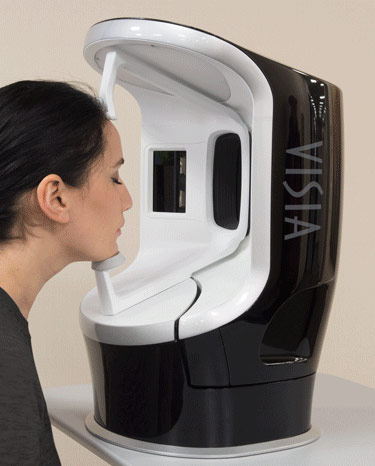 The Canfield VISIA Skin Analysis System gives our clients high quality, standardized facial images with a personalized detailed report. Canfield is the global leader in imaging systems, services, and products for scientific research and healthcare.
VISIA analysis is our "crystal ball" and educational tool that helps clients understand their skin better. It allows our providers to explain the treatment process, expected outcomes, and realistic goals, promoting informed decision-making.
We begin our Skin Consultation with bare, freshly cleansed skin. Then you will rest your face gently on the chin pad, in the VISIA device. A series of photos are taken, and a rotating platform easily captures left, right, and frontal facial views. Canfield's patented technology is then used to record and measure surface and subsurface skin conditions. Eight categories are used to assess and analysis the skin: spots, wrinkles, texture, pores, UV spots, brown spots, red areas, and porphyrins.
SPOTS – Typically brown or red skin marks, distinguishable by the distinct color and contrast from the background skin tone. Spots may vary in size and shape and are normally visible to the naked eye.
WRINKLES – Fine lines, folds, or creases in the skin, which increase in occurrence because of sun exposure and are associated with skin elasticity.
TEXTURE – Raised and depressed areas that indicate variation on the skin surface affecting skin smoothness.
PORES – The circular surface opening of sweat gland ducts. Assessing size and abundance on the face.
UV SPOTS – Occurs when melanin coagulates below the skin surface because of sun damage. UV spots are generally invisible under normal lighting conditions.
BROWN SPOTS – Pigmentation and discoloration on and just beneath the surface of the skin including freckles, lentigines, hyperpigmentation, and melasma.
RED SPOTS – Concentrated darker red areas, possibly associated with a variety of conditions such as acne, inflammation, rosacea, broken capillaries, or spider veins.
PORPHYRINS – Bacterial excretions that become lodged in pores and can lead to acne.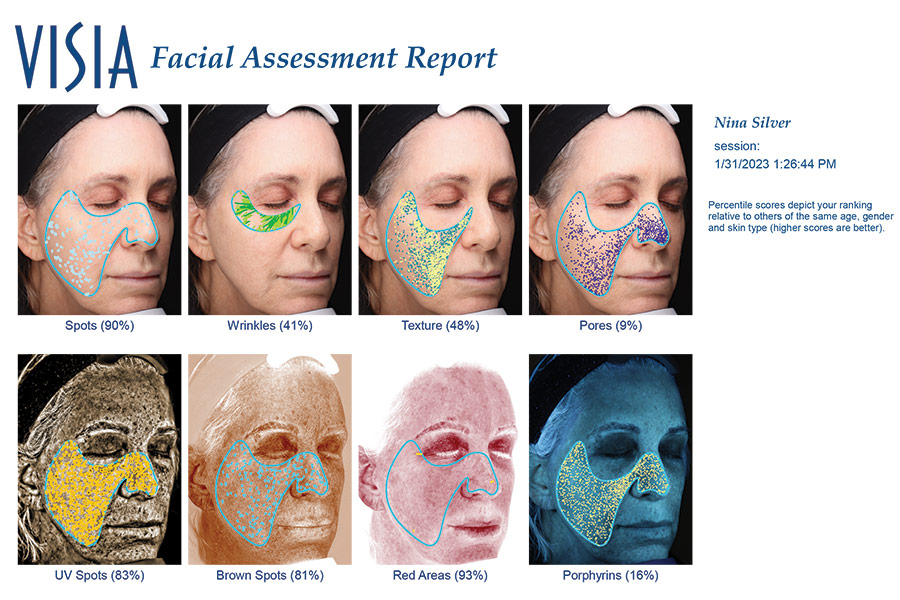 The VISIA will give you a score for each category, which we will then review. This is your baseline scan. Furthermore, we will discuss a customized approach to address your unique concerns effectively.
Some of our lasers may not be appropriate for certain skin types and skin concerns, a VISIA analysis helps us assess potential risks and allows us to adjust the treatment parameters accordingly to deliver a safe, effective treatment. Different lasers target specific skin issues, and knowing your skin's condition allows for a customized approach to address your unique concerns effectively. That is why we require a Skin Consultation with VISIA Skin Analysis before recommending Broad Band Light, MOXI and/or HALO treatments.
Before we start talking lasers, and injectables, and all that good stuff, we need to begin with the basics. A solid skincare regimen is most important! I want to share with you my dental analogy. Personally, I go four times a year to the dentist for cleanings, which is excessive (I know!!), but in reality, it doesn't matter HOW often I get my teeth cleaned, if I don't brush and floss every day, my teeth are NOT going to be healthy. I want you to apply this idea to your skincare! You come to the MedSpa for injections and laser, but if you don't have a good skincare routine at home, your skin is probably unhealthy.
We will help you build an appropriate skincare regimen for your exact needs. Our "Regimen Building" app allows us to customize a skincare routine for you. We will then print and email your recommended products and instructions for daily use.
Just like the dentist recommends regularly scheduled cleanings for your teeth, we recommend regularly scheduled facials for your skin! It's not simply a cleaning, but advanced exfoliation, and clarifying extractions too! But that's not all! An important part of your facial is the skin assessment, a routine inspection performed by your esthetician at each treatment. We want to be a part of your journey and help you achieve your skincare goals. During the facial we will discuss your current skincare regimen and help you evolve into the healthiest skin of your life!
Now that we have the basics covered, we can talk about advanced, non-surgical treatments offered at the MedSpa like laser, dermal fillers, PRP injections, Botox, collagen induction therapies like Sculptra and Hyperdilute Radiesse, micro needling, Vampire Facials, PRF Gel and more! We will set realistic goals and help you achieve them.
After you receive your advanced treatments, we can book a follow-up appointment to take new VISIA photos and compare them to your previous VISIA results.
To book a Skin Consultation at Silver Solutions MedSpa, call 413-441-8453. The entire deposit collected for the appointment will be credited towards future treatments or products, so basically, the Skin Consultation with VISIA is FREE! We hope to see you soon!