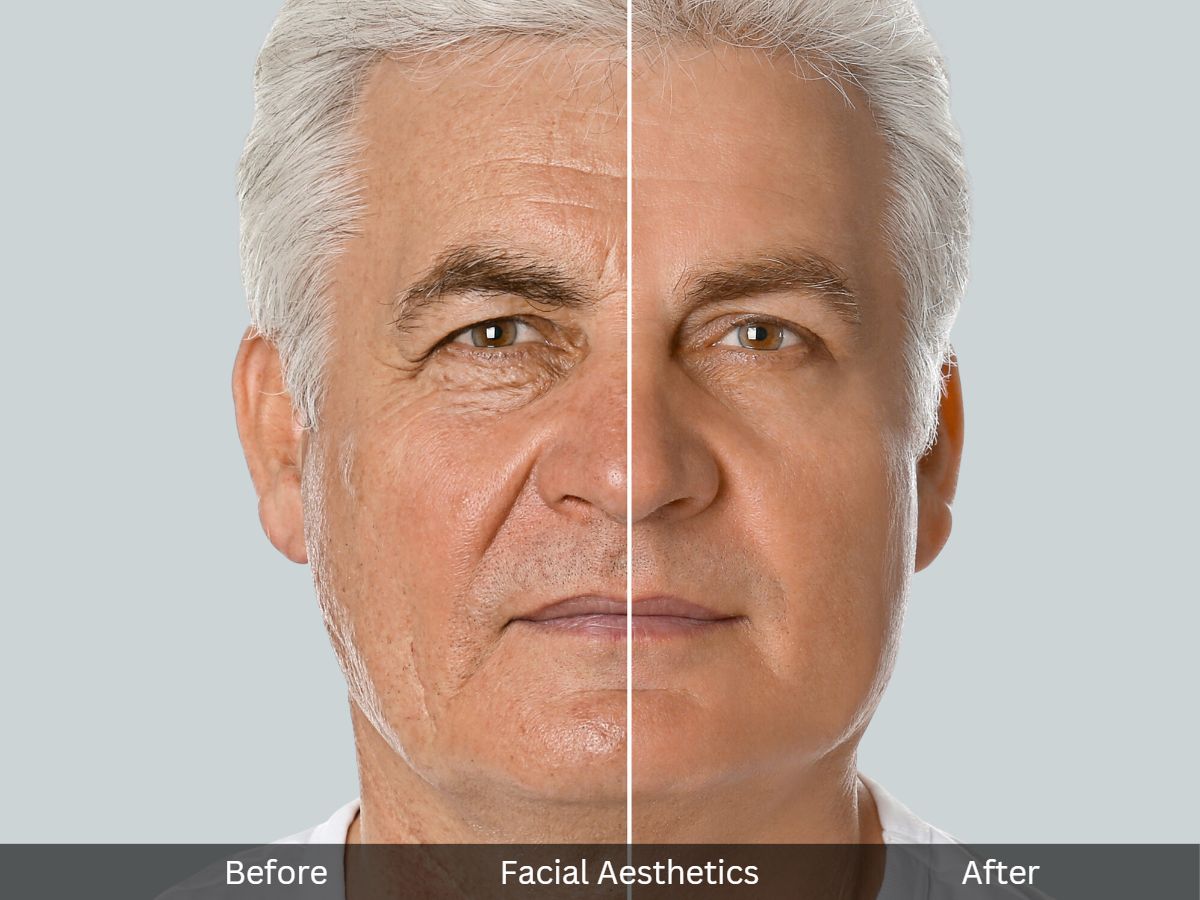 Long gone are the days of beauty treatments only being for women, because, spoiler alert, everyone loves being pampered once in a while! Silver Solutions MedSpa is NOT exclusively for women; it is designed to provide a relaxing and comfortable environment for all clients, regardless of gender.
Here at Silver Solutions MedSpa, we are seeing an increase in visits by men!
Our male patients come to the MedSpa feeling safe in knowing that our trained professionals are experienced in working with a diverse range of clients.
We provide a thorough, extensive consultation and assessment of your concerns and offer a variety of non-surgical treatments such as facials, Hydrafacials, peels, laser skin resurfacing, and hair reduction treatments, as well as injectables to help you feel invigorated.
Here are some of our favorite treatments tailored specifically for men:
Non-surgical treatments: Injectables like Botox and dermal fillers are becoming more popular among men. These treatments can help reduce the appearance of fine lines and wrinkles, and can also be used to add volume to areas such as cheeks, chin, and jawline. Many of our male patients are asking for a strong chin and chiseled jawline. This is one of our most requested dermal filler treatments for men.
Skin Rejuvenation: Men's skin is 25% thicker than women's and many men are turning to skin rejuvenation treatments such as Hydrafacial, peels and laser resurfacing to improve the texture and tone of their skin.Our specialty facials focus on problems some men commonly deal with, such as razor burns, ingrown hairs, skin dullness and sensitivity.Hydrafacial and Hydrabody can help to remove dead skin cells and impurities from the skin improving its texture and giving it a smoother, more even appearance. Reducing acne and breakouts. Hydrafacial can help to unclog pores and reduce inflammation making it an effective treatment for acne prone skin on the face or back.

Microneedling treatments are very popular and can help reduce the appearance of acne scars, sun damage, and other signs of aging.

Laser Hair Reduction: Men are also opting for laser hair reduction treatments to get rid of unwanted hair on their chest, back and other areas. Laser hair reduction is a safe and effective way to reduce hair growth without the need for daily shaving or waxing.
Hair Restoration: For non-surgical hair restoration we use platelet-rich plasma (PRP) to promote hair growth. It is a safe and effective treatment that has gained popularity in recent years. PRP therapy for hair restoration involves drawing your blood, processing it to isolate platelets rich in stem cells, growth factors and exomes, then injecting the PRP into the scalp.

These platelets can stimulate the growth of new hair follicles and improve the health and thickness of existing hair. PRP therapy is typically performed in a series of sessions with each session spaced several weeks apart.
Want to hear a real guy's experience? Read the Google review our client Andrew wrote below:
"I absolutely loved my HydraFacial!" "I'm a 60 year old man and I've never had anything like this done before. At work there is this horrible light in the bathroom and when I wash my hands I started seeing a lot of things going on, on my face, that I had never really paid attention to.  I talked with some friends about it one night and a woman recommended Silver Solutions. I went for my consultation and it was a really nice place!  Being a male in a spa like this was surprisingly comfortable. The treatment was not only very relaxing but yielded unbelievable results. My face feels like it's a couple of pounds lighter and I never felt so clean before. There is a visible difference in my face and I will absolutely go back again. Ladies, send your boyfriend/husbands/fathers/male friends to Silver Solutions for a HydraFacial! I guarantee they will ultimately thank you."
At Silver Solutions MedSpa we do a lot of educating! Men are at a higher risk of developing scalp and skin cancer than women. This is because men are more likely to have less hair or a bald scalp which exposes more of the skin to harmful UV radiation from the sun.  Additionally men are more likely to engage in outdoor activities without proper sun protection.
There are several steps that men can take to reduce their risk of developing scalp and skin cancer.
Wear a hat with a wide brim that can help protect the scalp and face from harmful UV rays.
Use a sunscreen broad spectrum with SPF of 30 or higher to any exposed skin including the scalp.
Wear protective clothing cover up with long sleeve shirts and pants when spending time outdoors.
Perform regular skin checks, checking your scalp and skin for any new or changing moles.
Visit a dermatologist regularly for skin cancer screenings, particularly if you have a history of skin cancer or other risks.
It Is important to note that while MedSpas are a safe and comfortable environment for men, some men may still feel uncomfortable or self-conscious about seeking out aesthetic treatments. However, as the popularity of aesthetic treatments for men continues to grow, more and more are finding that MedSpas offer a welcoming and comfortable environment where they can receive the treatments they need to feel their best.
Come on by and visit us! Everyone deserves a little pampering and self-care now and then!
To schedule your appointment, call 4134418453
All laser appointments require a Laser Skin Consultation ($175) to ensure you are receiving the right laser treatment to address your concerns. Laser consultation includes diagnostic VISIA scan. The full cost of that evaluation goes towards your laser appointment.